d3t welcomes Chris Hunter, Senior Artist
16th Nov 2021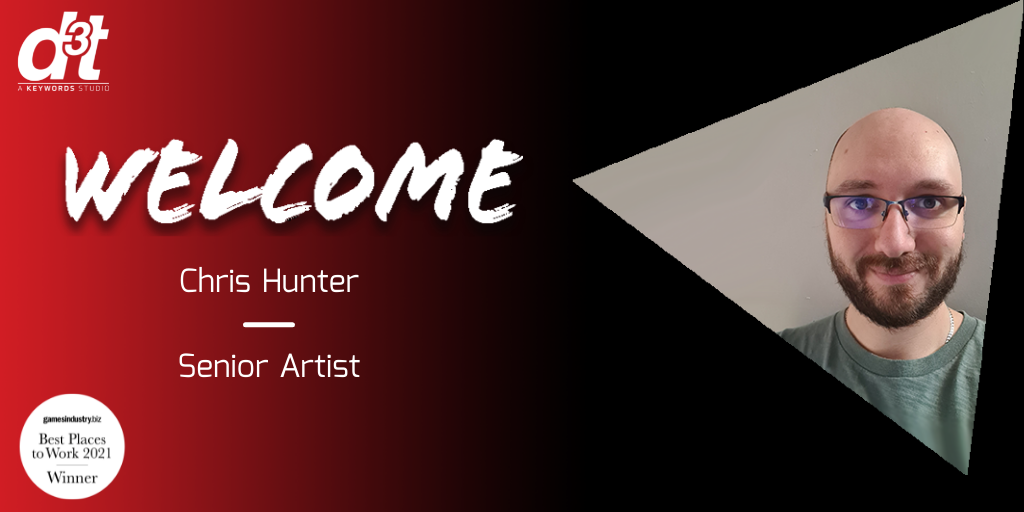 Please detail a bit of information about your experience/career background?
I've been in the industry for almost seven years now. I started my game dev career at TT Fusion in Wilmslow working as a Construction Artist. That meant that I was one of the people who created and animated things made from LEGO. Primarily the things that you would smash up for studs or the puzzles that you would have to solve in levels. My main ambition in the industry was to be an Environment Artist though. I finally achieved this when I moved on to TT Games in Knutsford where I would spend the next five or so years working on some dream projects like the LEGO Star Wars series.
Why d3t?
I'd heard nothing but good things about working at d3t, primarily how the work life balance is extremely healthy, and that personal and professional growth is encouraged. They have also worked on some of my all-time favourite games and I wanted to be a part of that.
What do you love about games?
I love the fact that games are a unique way of enjoying a story. It is the only medium where you get to actually do and experience the things that are happening to the character, and that sense of immersion is what keeps me interested.
What games are you currently playing, and what is your favourite game?
I'm currently playing "Yakuza: Like a Dragon" as I love that series of games and I love RPGs, so this is a perfect blend for me. The game is full of the perfect balance of goofiness and seriousness.
My favourite game of all time is Final Fantasy 8, although to be honest I've never actually finished it. It's sooo long and I always ended up being distracted by something else that's shiny.
The reason it's my favourite is because it is the game that inspired me to make games and 3D worlds in the first place. Before playing it I didn't know that games could look that good! (That may seem funny now looking back on it, but at the time it was jaw-dropping!)
Do you have any fun facts or hobbies?
I love Japan and music, so in my spare time I like to learn Japanese and create music.
I also do a podcast with my younger brother who is a Tokyo 2020 Paralympic Bronze medallist in Table Tennis. (Jack Hunter-Spivey).
Fun Fact: I was on a gameshow hosted by Jason Manford and he made me sing "Mary had a little lamb" in Japanese on national television!