d3t welcomes Roger Robinson, Lead Lighting Artist
17th Jan 2023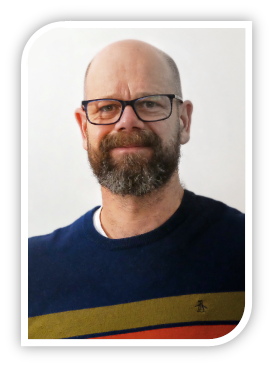 Tell us a bit of information about your experience/career background?
I started my career working in film and TV as a Camera Assistant. Back in those days most of the work was on 35mm film – digital cameras were around but the quality was nowhere near what was achievable on film. I was trained in lighting for miniatures, stop frame animation and VFX shots. It was a fantastic grounding in lighting and cinematography.
I then went on to work as Lighting Camera at the BBC and I was Director of Photography on various stop frame productions including Bob the Builder and Pingu.
In 2007 I did a crash course in Maya at Escape Studios, and got my first job in 3D Lighting on a kids TV show called What's Your News that was rendered using a game engine.
I then moved on to TTGames, where I worked on six LEGO games, and was also the Lighting Lead on the movie Lego Batman: DC Superheroes Unite.
My last job was as Lighting Lead on an unannounced title at Ballistic Moon, and I also moonlight at Norwich University of the Arts teaching lighting for games and asset production.
Why d3t?
The chance to head up a lighting team to work on some great IPs – yes please!
I had already heard good things about the culture at d3t and about how the wellbeing of staff is a priority. Clearly people like working here and I believe that a happy team is a creative and productive one, and that is something that I am excited to be part of! I can't wait to get stuck in!
What do you love about games?
I'm a sucker for beautiful imagery and a good story. Anything cinematic, branching narrative or adventure driven and I'm in. I have mad respect for a well-crafted game cinematic where the lighting, camerawork and animation come together to support the story and create something bigger than the sum of the individual parts.
What games are you currently playing, and what is your favourite game?
Gah! – impossible to pick a favourite! I have been playing the Tomb Raider games since the OG game on PS1! But I'm a sucker for all things Naughty Dog. Dragon Age: Origins has also got to be up there, and I loved Detroit: Become Human. I also can't wait to see what Quantic Dream does with Star Wars Eclipse.
I have recently been playing As Dusk Falls which has an original art style, fantastic lighting, and a great story. I love Stray – it's such a beautifully lit game and an amazing achievement for such a small dev team. There is some great character lighting in The Quarry and The Calisto Protocol both of which I am also dabbling in at the moment. But more hours are needed in the day…!
Do you have any fun facts or hobbies?
I live with my wife, two beautiful children, and three cats. I love cooking, watercolour painting, yoga, and roller skating. I also play roller derby for the East Anglo Smacksons and my derby name is Grandmaster Smash.