d3t Win GamesIndustry.Biz Best Places To Work Award 2019
26th Sep 2019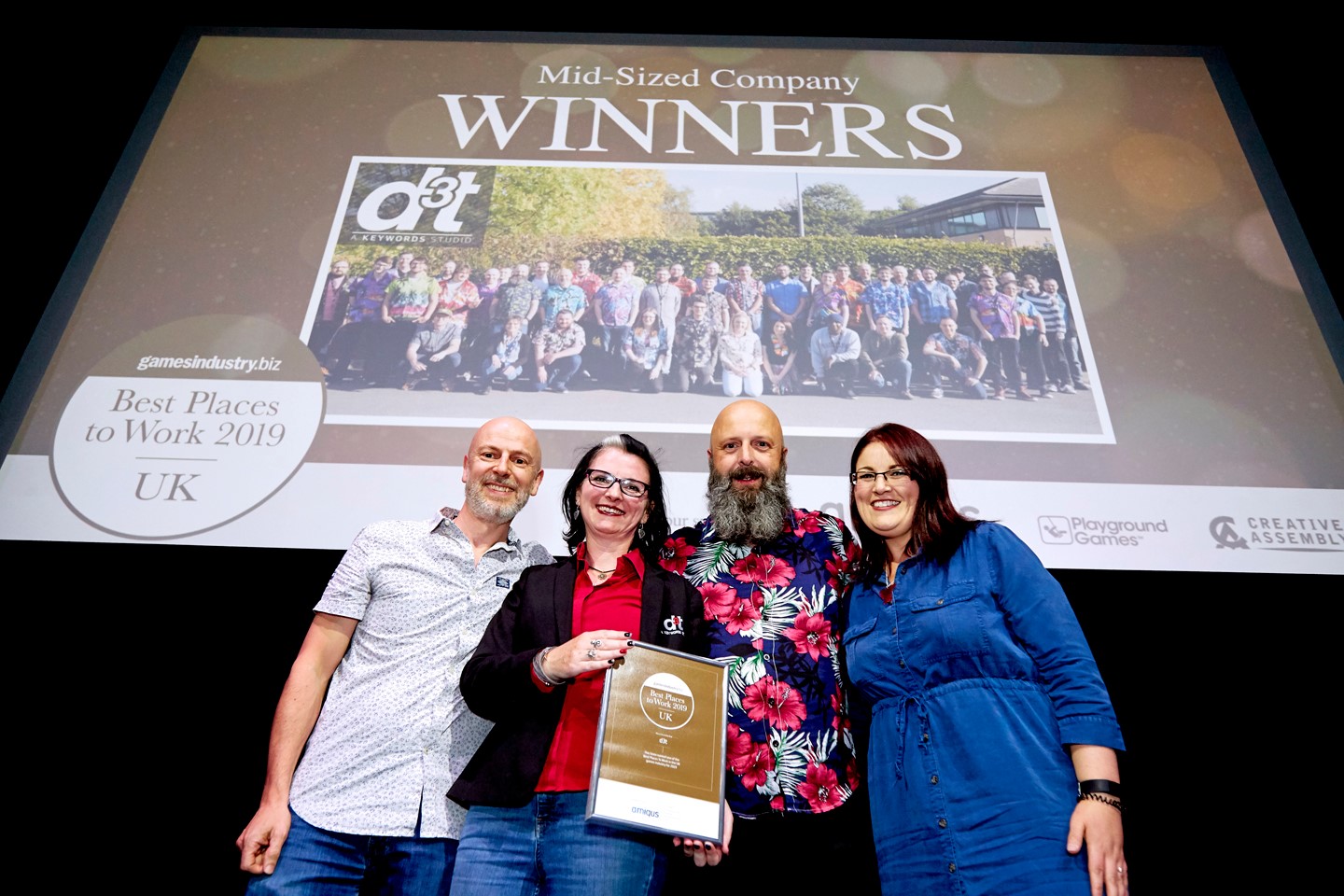 We are incredibly proud that following our nomination to the GamesIndustry.biz, Best Places to Work Awards 2019, d3t have been announced as one of the winners!
We would like to give a sincere shout out to all of the team here at d3tHQ who help make it such a special place.
It is such an honour to receive this award, because it is voted for predominantly by our team. Best Places to Work Awards are judged by a duel survey system, including a detailed company questionnaire (worth 25% of the final score) and an anonymous employee survey (worth 75% of the final score). 80 companies participated in this years awards!
The awards were presented in the evening, following a fantastic day-long event filled with speakers from several companies within the games industry. Our very own Head of Engineering Phil Owen took part in a panel discussing mental health and well-being in the workplace prior to the award presentation. This is an area which d3t feels strongly in supporting. Earlier this year d3t hosted its inaugural "wellbeing week" whereby an entire week was dedicated to employee wellbeing and featured workshops talks and additional support in the multiple areas of wellbeing. d3t continue to focus on mental heath in the workplace throughout the year.
Here at d3t, we believe in an "anti-crunch" ethos, along with strong sustained growth it has been at the heart of d3t from the beginning. d3t deploy systems and processes to ensure that the work environment remains positive and an enjoyable place to be, continuing to strive to be the Best Place to Work.
"[Anti-Crunch] is important for team retention, wellbeing, creativity, knowledge share and recruitment. It is also important that all employees have a good work/home life balance. Happy healthy employees do the best work" – Phil Owen
The awards were presented by GamesIndustry.biz, Amiqus sponsored the awards alongside Playground Games, Creative Assembly, UKIE and Special Effect.
Click here to see the official GamesIndustry.biz post about the awards.
Want to work at d3t?
We are regularly looking for new candidates for a wide range of roles. If you would like to find out more and work at one of the "Best Places to Work 2019" please have a look at our Join our Team page for a list of positions currently available.