d3t wins GamesIndustry.biz Best Places to Work 2020
24th Sep 2020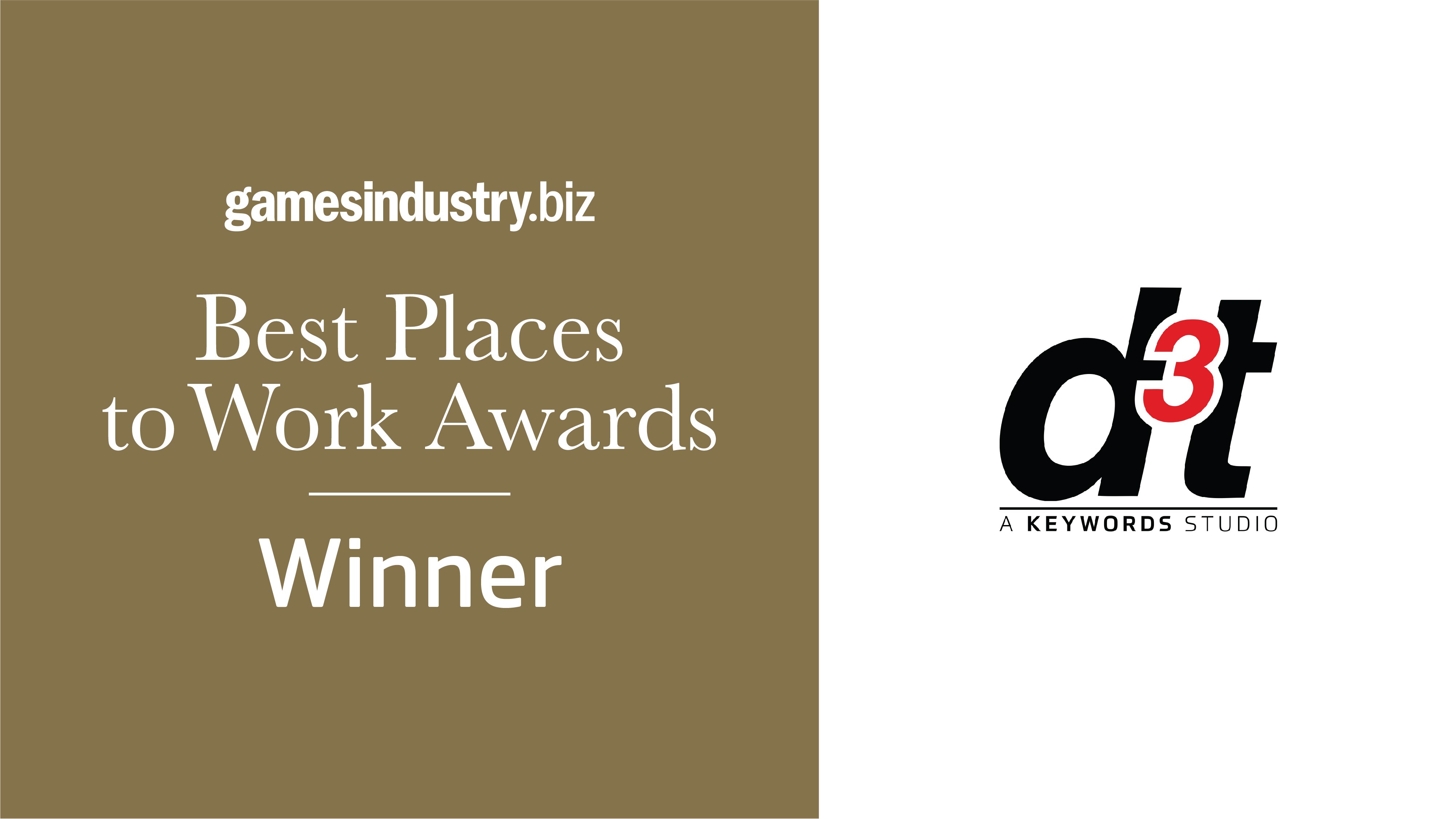 We are incredibly proud that following our submission to the GamesIndustry.biz Best Places to Work Awards 2020, d3t have been announced as one of the winners!
It is without a doubt thanks to the great team we have here at d3t, so we want to give a huge shout out to the team who help make it such a special place to work.
We are honoured to receive this award, because it is voted for predominantly by our team. Best Places to Work Awards are judged by a duel survey system, including a detailed company questionnaire (worth 25% of the final score) and an anonymous employee survey (worth 75% of the final score). Over 70 companies participated in this years' awards!
The awards were presented a little differently this year, moving the entire event online with live videos hosted on YouTube. Throughout the afternoon there were fantastic talks from people within the games industry covering topics such as the impact of COVID-19, company culture and diversity.
This year has been like no other year, and when the COVID-19 pandemic hit we were very fortunate to operate in an industry where a significant proportion of our team were able to continue to work effectively whilst remote from the studio. Regular communication was of an even greater importance when a team migrates to working from home. d3t prides itself on its inclusive and supportive culture that we have nurtured over the years, so we took significant steps to maintain that culture while 90% of d3t were working remotely. Initiatives included regular care packages sent to the team, Friday afternoon social gatherings via Zoom, regular project show & tells, live stream fitness sessions and access to a dedicated area for advice, assistance and guidance for mental health support, put together by our qualified Mental Health First Aiders.
Here at d3t, we believe in an "anti-crunch" ethos, along with strong sustained growth which has been at the heart of d3t from the beginning. d3t deploy systems and processes to ensure that the work environment remains positive and an enjoyable place to be, continuing to strive to be the Best Place to Work.
"I am absolutely thrilled that d3t has won the Best Places to Work award in 2020, during arguably one of the most challenging years we've faced from a studio & team culture standpoint. This award is particularly important to me because it is voted for by the team which in turns gives it such credibility.

After the rapid transition to working from home my immediate fear was the potential gradual erosion of the team spirit as we all retreated into our respective homes. Those fears have thankfully turned out to be completely unfounded. Thanks to some herculean efforts from the d3t IT, operations and marketing teams, together with the general "we're all in this together" mindset of the fantastic d3t team. That team spirit has continued to thrive throughout this pandemic. I am very lucky to be surrounded by such amazing people. Go Team d3t!" – Richard Badger, Head of Studio.
The 2020 Best Places To Work Awards were presented by Amiqus, and sponsored by Playground Games, with a special thanks to UKIE and SpecialEffect for additional event support.
Click here to see the official GamesIndustry.biz post about the awards.
Want to work at d3t?
We are regularly looking for new candidates for a wide range of roles. If you would like to find out more and work at one of the "Best Places to Work 2020", please have a look at our Join our Team page for a list of positions currently available.