d3t Women in Games
16th Aug 2018
d3t is in a period of growth, with new premises and a headcount of 50. The company currently has 15 vacancies for programmers at all levels and we are very excited for the future.We really enjoy working with the student community to encourage interest in the games industry. Our recruitment team makes regular visits to universities, have worked with our local college and thoroughly enjoyed delivering a STEM talk to our youngest audience yet: 9 – 11 year olds.
This year d3t will be ramping up recruitment activities to include even more student engagement. We feel a strong responsibility to spread the word about working within the industry and encouraging the next generation of coders to think 'we CAN work in games'.
When Steve Powell and Jamie Campbell first started d3t, they wanted to create a great place to work with the emphasis on building and retaining a highly skilled and happy team. They developed a bespoke recruitment methodology and fostered an inclusive, supportive working environment. Those elements are still key to d3t's operation. Our ethos of inclusivity got us thinking about diversity. We don't think one can exist within the workplace without the other.
Encouraging more women in games is important to us and it's not on every studio's agenda! Our experience has demonstrated to us that a more diverse workforce leads to a more creative and vibrant team culture, so d3t remains laser-focused on broadening the diversity profile of its team at every opportunity.
So, as we are planning our autumn student engagement activities and delivering our message of 'you CAN work in games' we want to turn the spotlight on the women at d3t who have helped us get to where we are today.
Here are the d3t women in games and women behind the games…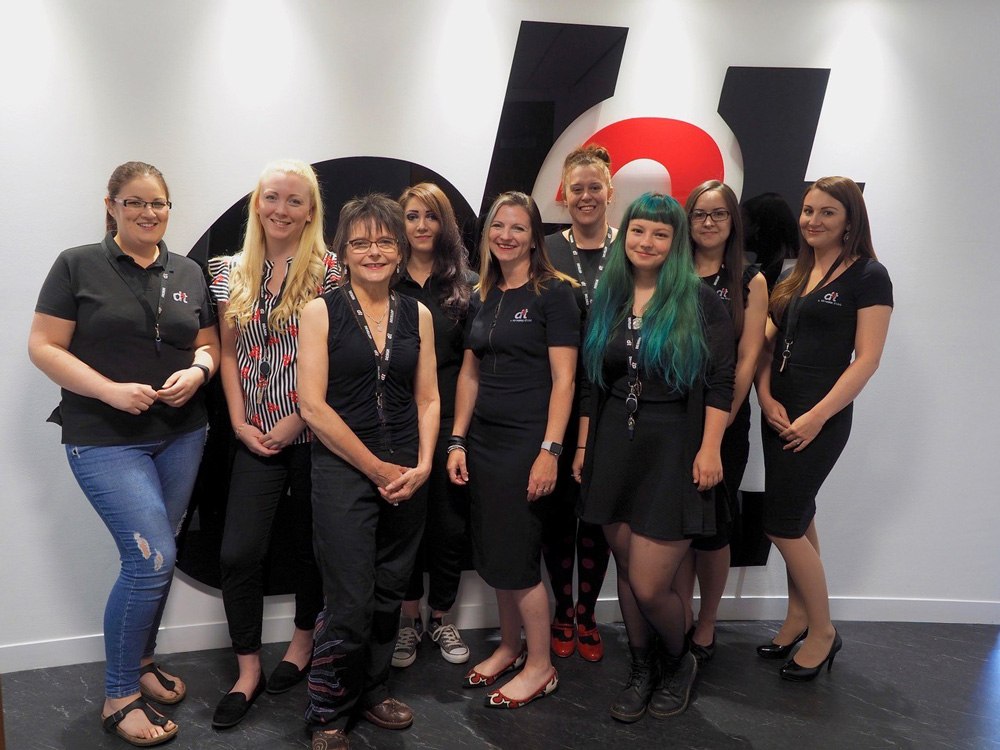 Irina Hristescu
As part of our engagement programme, we visited the University of Manchester where we met student Irina Hristescu. Irina has always been interested in a career in games and applied for a Junior Programmer internship with us. Irina has been with us since June this year.
Jane McLoughlin
Project Manager Jane Mcloughlin joined d3t in March 2016. Jane is one of our Project Managers and is responsible for delivery on a number of projects at any given time. Day to day Jane can be moving between sprint planning, organising new project setups, working with the leadership team to organise resourcing on all projects and communicating with clients both electronically and on calls. Jane admits there is always something new to learn and no day is ever the same!
Shariqua Wahid
QA Tester and Designer Shariqua Wahid also joined our team in 2016. Shariqua has been proactive in engaging with the student community and is passionate about spreading the word about her own positive experiences within the industry, encouraging students and graduates to consider a career in games. Shariqua is also a passionate gamer in her spare time.
Ally Noble
Project Manager Ally Noble joined us in November 2017 to continue her game making career in our production team. Ally's main responsibilities involve managing a project's lifecycle regarding budget and time, running planning meetings, ensuring milestones are met, liaising with clients and collaborating internal and externally with QA.
Sarah Wenham
Our Operations Manager is Sarah Wenham who joined us from a corporate banking background. Originally our Office Manager, Sarah has played a huge role in continuing the development of our corporate infrastructure. Sarah manages our admin team and is responsible for the recruitment process, facilities management and working with the development director to generate and monitor our studio KPIs. A gamer in her spare time, Sarah says she's found her dream job, combining her extensive corporate experience with her favourite hobby.
Keri Booth
Keri Booth joined our team as Admin Assistant, progressing to her current split role as Admin and Marketing Coordinator. She is instrumental in shaping our marketing activity. Key responsibilities include maintaining effective comms between the admin and marketing departments and liaising with internal and external departments. Keri is one of the studio communications champions with KWS and is a key contact to several external partners. Working in the games industry is something she has always wanted to do, being an avid gamer in her spare time.
Jenna Hoyles
Jenna Hoyles joined the admin team in July 2018 as Office Support. She is a valued member of the team and helps to keep the department and the office running smoothly. Key responsibilities include ensuring day to day stock levels are sufficient and topping up where necessary, acting as our main receptionist and first point of call for all visitors, data management and input.
Ffion Hughes
Ffion Hughes is our Office Junior and is an apprentice, undertaking an NVQ Level 2 in Business Administration. Ffion provides support to the internal infrastructure and works closely with Office Support to ensure all aspects of the admin department and main office continue running effectively. Her responsibilities include data input and formatting, filing and processing paperwork.
Helen Powell
Helen Powell is one of our Marketing Co-ordinators working closely with Keri Booth. Helen has been in a supportive role with d3t from its founding days, then officially took on the role of Business Support followed later by a move to Marketing in 2016. She has been hugely influential in getting d3t 'out there' and continues to apply her passion for marketing in the games industry.
Susan Campbell
Susan Campbell began assisting d3t in the very early days with general financial support.  Since 2016 Susan has been at the helm of d3t's day-to-day internal finances. Working closely with both our Studio Head and external finance consultant, Susan helps manage the studio's finances and provides a vital interface between our group company KWS and d3t HQ.Looking to d3t's future, we will be striving to encourage those who have never considered a career in games to think again. This is a great industry, with the scope to work with brand new technologies, exercising creativity and tackling daily challenges. The technology sector is in the midst of a skills shortage, and d3t is looking to engage with all those interested in joining this creative industry. d3t has a mentoring and anti-crunch mentality which sets us apart from many in the games community. This along with a professional yet friendly environment, means d3t is attractive to many entering the industry for the first time, as well as those with existing industry experience.
If you want to work for a growing, forward thinking and inclusive company, why not take a look at our vacancies? We look forward to hearing from you.
#womenbehindthegames #womeningames #womenwhocode