Gamescom 2017
29th Aug 2017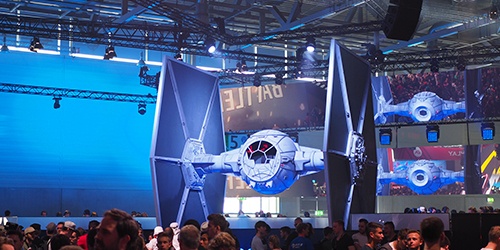 Gamescom seemed busier than ever this year in both the public halls and the business area. The halls themselves were packed full of gamers, traders and cosplayers milling around to catch a glimpse of the latest titles, and as always the stands were spectacular.
The business area was well organised and well staffed – making the job of getting to meetings on time a lot easier. We had some great meetings with potential new clients and existing contacts – Gamescom is always a good chance to catch up with European customer and colleagues. The message from d3t has been consistent as always – we're a 100% work-for-hire external development partner offering engineering services to the games industry; We develop YOUR games.
Security was tighter than previous years with bag searches on entry, but again, well handled and low-friction. Angela Merkel's visit on Tuesday included helicopters, a huge entourage, and security checks in the exhibition halls, but good to see support for the Games Industry at that level. As usual, Koln has treated us to great weather, excellent food and drink, and a successful couple of days' hard work out of the office.
See you next year!
View the Gallery