"Jamillah and Aladdin" launches!
27th Apr 2017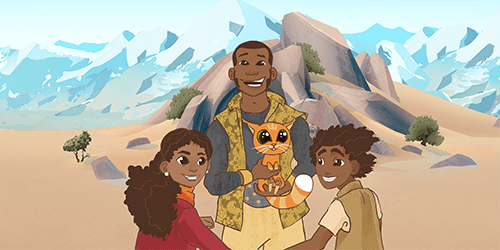 We are excited to announce that our latest BBC interactive project is now live on the CBeebies website.
The d3t team has created an interactive motion comic adventure themed around the live action CBeebies TV show "Jamillah and Aladdin", working in collaboration with the talented guys at Kindle Entertainment and BBC Children's interactive.
d3t undertook the following:
Character Design & Illustration
Scene Design & Direction
Scene Artwork
Scripting and Animation
And we have to admit – we are very delighted with the outcome. It's beautiful! Congratulations to our team for all their hard work, dedication and creativity!
"Travel with Jamillah, Aladdin and Genie as they journey to a mysterious cave and find some ancient treasure, however, when Aladdin touches a magic crown he activates a booby trap and they are chased by a mysterious monster…!"
https://www.bbc.co.uk/cbeebies/games/jamillah-and-aladdin-cave-of-wonders
Read our Jamillah and Aladdin Case Study to find out more about this awesome project.