Meet Aoife Stroughair, d3t Junior Programmer
12th Mar 2018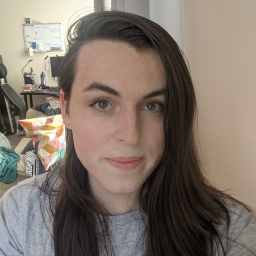 Aoife Stroughair joined the d3t team as a Junior Programmer on 5th March 2018. Aoife tells us a bit more about themselves…
Tell us about your background and experience prior to d3t?
I graduated from Trinity College Dublin in Autumn 2017 with a Computer Science MSc. in Interactive Entertainment Technology.
Why d3t?
I was browsing LinkedIn for developer jobs and the job description caught my eye. I checked out the company website and when I realised that the job would allow me to work within all facets of game development, I was very eager to apply.
What was the recruitment process like?
The first step was a programming test, which was sent to me via email, to be completed within 24-hours. Not only was it genuinely enjoyable to work on, but the longer time limit compared to most other programming tests I had completed meant that I could take regular breaks, and work without getting overly stressed about how much time I had left.
The next step was a Skype interview with Andy Booth (Technical Director) and Lyndon Jones (Programming Lead). They were friendly and happy to answer any questions I had about the job, which made the whole process quite enjoyable and allowed me to answer their own questions with a much higher degree of ease.
I was quite surprised, and very happy, to receive an email an hour after I'd put the phone down to tell me they wanted to take me on! Along with the job offer, I was also given the opportunity to visit the office and meet the team before I eventually started, giving me the opportunity to get to know some of the people I'd be working with.
Tell us some interesting facts about yourself.
When applying for college courses, I initially had Dentistry as my top choice. When I narrowly missed out on it, I was forced into my second choice, Computer Engineering. Of course, when I realised that this meant that I could develop games for a living, I was more than relieved at this twist of fate.
As for playing games, I got a Gameboy Pocket with a copy of Pokémon Blue when was in primary school. While I'm ashamed to say that I only managed recently to become a true Pokémon Master and catch all 151 of them, I promise that I've put the time in the interim to good use with other games and other platforms. Nintendo however has always been near and dear to my heart.
If you want to join our talented team, why not check out our vacancies?