Priestley College Students Visit
21st Nov 2017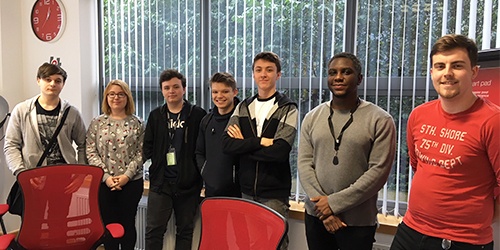 As d3t continues to grow, we have expanded our programme of engagement with universities and colleges.This enables us to seek out emerging talent and also to offer guidance and mentoring to those wanting to enter our competitive industry.
We regularly attend student recruitment fairs, have this year launched d3t internships and we are now proud patrons of Grads in Games. And as part of this programme of engagement, we recently hosted a lunchtime visit from art students from Computer Games Design at Priestley College, Warrington.
We presented an overview of d3t and this was followed by an informal Q&A session with two of our artists, to enable the students to gain insight into what it's like to work on live dev projects. We followed this by a one to one feedback and critique session on each student's portfolio, carried out as it would be in the workplace.
We are really excited by the level of creativity and skill evident in the portfolios and are looking forward to visiting Priestley College to see the students in their study environments.
We thoroughly enjoyed meeting all six students and thank them for coming along. Following the visit, it was great seeing and sharing the students' posts on Twitter, including:
https://twitter.com/ElliotGriff2405/status/932041490787860481
https://twitter.com/r3algamedesign/status/931589446360879104