Spotlight: Eleanor Biggin, Associate Artist
29th Jun 2021
This month we caught up with Eleanor Biggin, who joined our art department in August 2020. Fresh out of University, Eleanor tells us all about how she applied for her job at d3t, and what the interview process was like.
How did you get your job at d3t?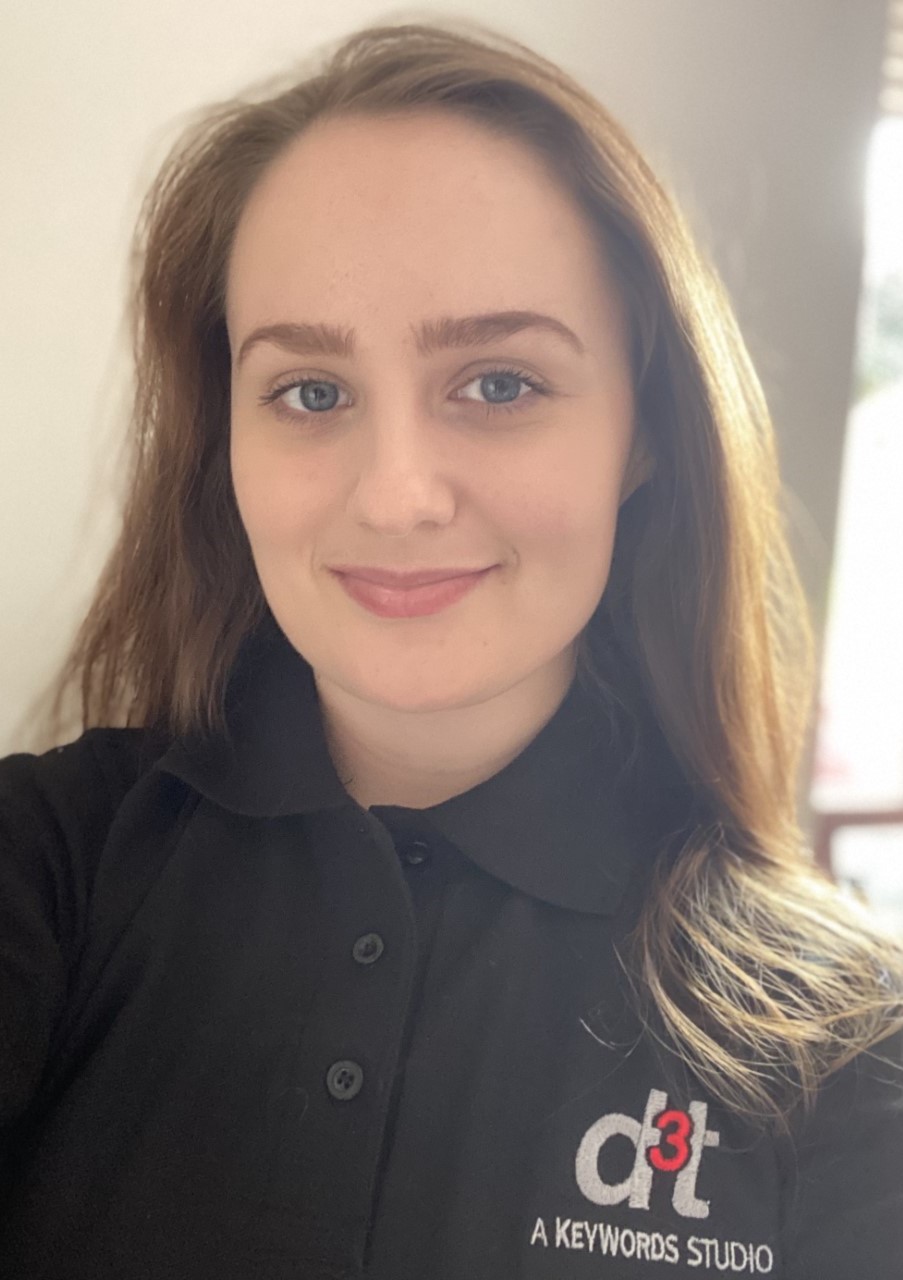 I had just finished my final year of the Game Art course at Futureworks University and wanted to get stuck into applying to studios. We had a great presentation from d3t's Phil Owen earlier in the year, which put d3t at the top of my list for places to apply! I saw that they weren't specifically hiring for art roles at the time but that they accepted speculative applications. So, I emailed my portfolio over and said why I was interested in applying. To be honest, I wasn't expecting a response, especially considering we were in the middle of the first COVID-19 lockdown, but about a week later I had a reply from Sally Samuel, the Talent Acquisition Manager (who was so lovely & professional) and she invited me for a Skype interview.
The interview process was relaxed and felt more like a chat with the Head of Art Louise Andrew and Art Director Anthony O'Donnell, which really put me at ease. It was great to learn so much about the studio's team-oriented culture which assured me that d3t was the place I wanted to work. I was asked various questions about my portfolio and art workflow, as well as general interests which of course included favourite games! I only had to wait over the weekend before I was offered the position via a phone call from Sally, and I started working remotely (at first) about a week later. I had the opportunity to work in the studio as the lockdown eased, and everyone was so lovely and welcoming so I can't wait to return!
What do you do day-to-day?
It was so refreshing to hear that d3t has flexi-time as my drive to the studio is sometimes unpredictable due to traffic, so I aim to start at 8am every day. Every morning I grab a coffee from one of the many machines around the office and then join the daily virtual 'Standups' where everyone on the project chats about what they're doing that day.
Luckily, I've had the opportunity to work on a few different projects so far that are still ongoing, which have been so different in terms of the work involved. It's ranged from 3D modelling/texturing to a bit of 2D concept work and photobashing, so as an Associate I've learned so much more than I thought I ever would in this short space of time. To say that everyone has been helpful on my projects is an understatement, as everyone is so passionate and willing to lend a hand whenever I'm stuck or second-guessing a piece of work, which has grown my confidence more than I ever expected! At the moment, my work is very iterative and involves lots of feedback, but it's been great to improve my skills and problem-solving.
Do you have any tips for people looking to get into the games industry?
I would say don't be afraid to try new things whilst you're studying or self-learning art, as I was dead set on doing concept art at Uni until I really got into 3D sculpting and prop work – which I now see as my main strength!
Also, in terms of portfolios sometimes less is more! Having a few consistent pieces that you're proud of and that demonstrate different skills will always be received well when it comes to applying for jobs.
We are hiring
Stay tuned for more spotlights this year. In the meantime, if you're feeling inspired and want to join our team, check out our vacancies page!