Spotlight: Kate Wooldridge, HR Administrator
19th Jul 2022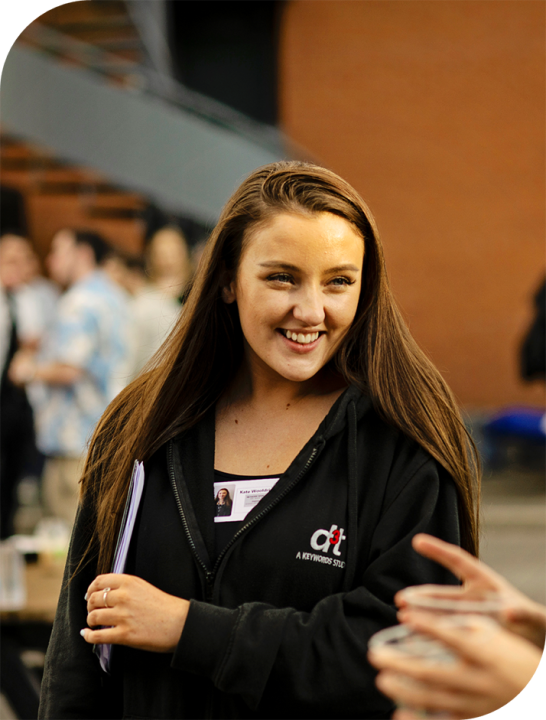 How did you get your job at d3t?
The way that I discovered d3t was very different to that of my teammates. The glass lobby of the building caught my eye as I drove past one day, and I just knew that I wanted to work there. Not to sound strange, but I sat outside in my car, googled the company name, called the main-line number, and spoke with a lovely lady who told me to send her my CV.
A few days later I was called in to have an interview for the Office Support position, with the Office Manager and my current co-worker; the pair of them made me feel so comfortable and heightened my excitement to work for the company even more. In the interview, I was asked if I played video games, which I replied that I didn't but that I used to as a child, purely because my brother needed someone to beat, but despite me not being a total gamer – I got the job!
I initially worked as Office Support, but my progression has lead me into my current role of HR Administrator.
What do you do day-to-day?
My role in HR is primarily focused around maintaining employee data and essentially being the office mum – I'm always around for support.
I oversee the complete onboarding of each new employee at d3t, from communicating with all new starters, managing probationary periods, and supplying the relevant contractual paperwork.
Another responsibility is arranging internal training programmes for our team to help provide development to all members of d3t. I also direct and assist people to relevant employee policies and benefits along with ensuring that procedures are followed.
In addition to the above, one of my main tasks at the moment is communicating with the fantastic IT department to populate the newly renovated top floor (watch this space for some amazing images of it).
Do you have any tips for people looking to get into the games industry?
Being the main administrative point of contact for the past two years, I have seen many enquiries of employment applications, but I would say that attending an event such as a University Fair would be the best way to make an impression as it is more personable, and I think that is a huge part of the d3t culture.
We are hiring
Stay tuned for more spotlight features coming soon. In the meantime, if you're feeling inspired and want to join our team, check out our vacancies page!