Spotlight: Louise Andrew, Head of Art
30th Mar 2021
This month we take a look at our art department and caught up with Louise Andrew. Louise has a very varied role and was recently promoted from Art Manager to Head of Art. She told us a little about what she does day-to-day, but not before sharing how she got her job in the games industry. So, let's find out more…
How did you get your job at d3t?
I did a Fine Art degree specialising in Sculpture and then spent the next ten years making scenery for TV, film and theatre, which was great fun!
At around that time I decided that I'd like a change and I met someone who worked as an artist in the games industry, he told me all about it and it sounded really cool. Although I was not very computer savvy, I thought I would try to learn Photoshop, so I did an evening class and loved it, so then began to learn 3DS Max, which was great too. I had been unsure if I'd like making art digitally, but I found that I really enjoyed it.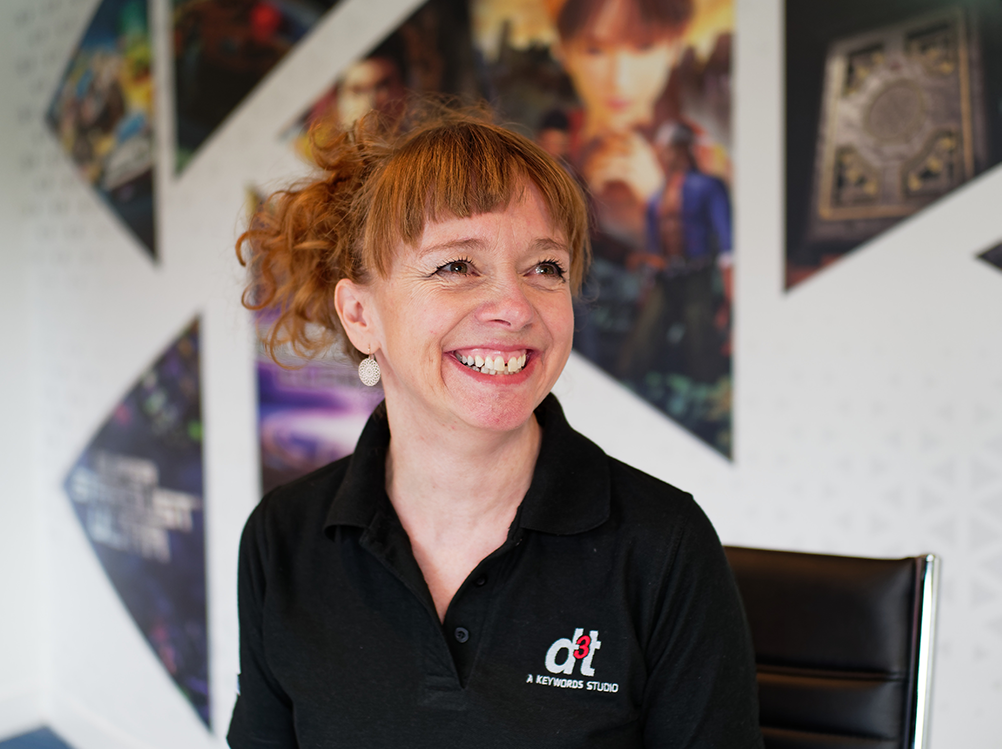 The following year I got on to an MA in Digital Games at John Moores Uni and from there I was offered a job at Acclaim Studios in Manchester, and then went on to TT Games in Cheshire, where I worked for 13 years. I was primarily an environment artist creating the in-game levels on games such as LEGO Star Wars, LEGO Indiana Jones and the Incredibles etc. I also worked with the Cutscene team, which was great fun as I got to create lots of the iconic bespoke environments from the movies, that weren't part of the game levels.
Having worked as a Lead Artist at TT, I started to realise I wanted to take on a more managerial role, which is where d3t comes in! I had various friends who were working at d3t and they told me what a great place it was to work, so I came in for an informal chat initially and then for an interview a couple of weeks later and hey presto I got the job!
I was Art Manager for the first 15 months and have recently been made Head of Art, so it's all going well I guess!
What do you do day-to-day?
My job is so varied!
I manage the art team, which involves recruitment, appraisals, promotions, pay reviews, monitoring performance and organising training and staff development, and then also planning for the future such as the strategy of growth of the art team over the next few years etc. I speak to each of the 25 artists regularly to see how they are getting on and to try to find solutions if there are any issues. At d3t we are very proactive about supporting our team, so if there is anything we can do to help we will try to facilitate it. I speak to the production team regularly to monitor that all projects are running smoothly from an art pov and generally keep communication flowing to keep everyone in the loop.
I am responsible for managing the resource allocation (which artists are on which projects), and making sure that both the clients and the artists are being paired up to their best advantage; the artists are getting exciting and inspiring artwork to create, and the clients are happy with the work that is being delivered. I organise art social events and art team show and tells, so that as a team we still see each other lots and new starters get to know the rest of the art team even though we are working remotely at the moment.
I speak to prospective new clients about potential future work and get involved in sales pitches. My focus is to get the most inspiring and varied artwork for us to be involved in, whilst also trying to ensure we get some creative freedom too.
I take part in talks and events outside of d3t, talking to graduates, colleges and at conferences etc, and I help with marketing and am sometimes involved with the design of d3t bespoke items like our d3t socks and face masks, the Halloween social media animation and Christmas card etc.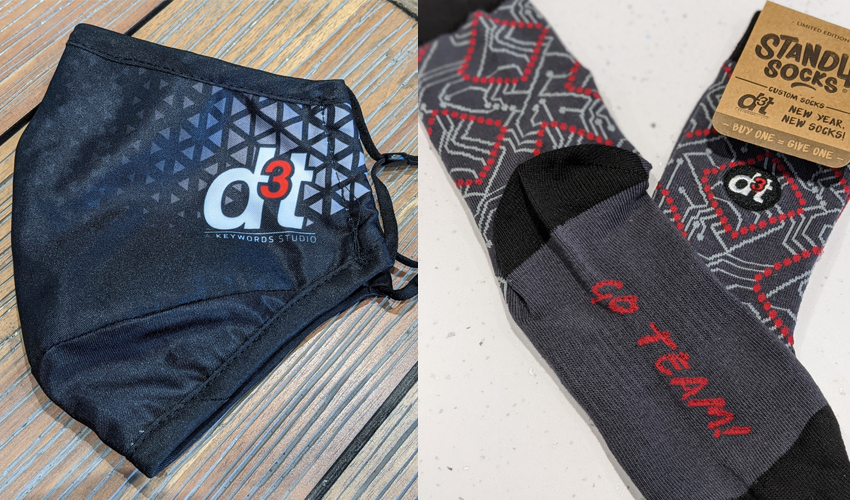 Additionally, we are refurbishing the office whilst we don't have many people onsite, and so the Office Manager, Eleanor and I spend lots of time talking to the designer and choosing fabrics and furniture, lighting and wallpaper etc. It's great! We are also developing the garden too, so I have been involved in putting the garden design together. Having a nice outdoor space will be brilliant when we are all able to be back at the office again.
There's lots to keep me busy, but it's all really fun, interesting and creative work, so I love it.
Do you have any tips for people looking to get into the games industry?
If you want to be an artist in games, do the artwork that you love (whether that be VFX, Characters, UI, props etc), make art, put it on a website or Art Station and get feedback from other professionals and keep learning. If you are passionate about it and keep growing as an artist, then you will find work. You can tell in an artists' portfolio if they love what they do and have a desire to continually improve. It's a great industry to work in and there are not many careers for artists where they get to make art every day, have a secure job, work as part of a team and get paid pretty well for it! I definitely recommend it!
We are hiring
Stay tuned for more spotlights this year. In the meantime, if you're feeling inspired and want to join our team, check out our vacancies page!