STEM Talk at Sandiway Primary School
12th Feb 2018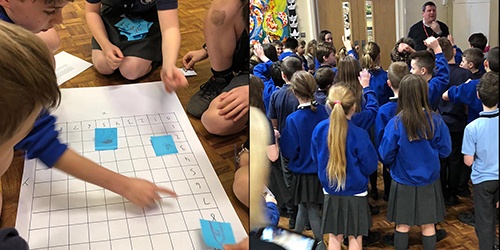 We understand the importance of engaging with our student community. We have recently launched an internship programme, we visit universities on a regular basis and as a result, have recruited a number of graduates to our team.
We know from experience the creative dividends that a diverse team brings to a studio including fresh ideas and a range of perspectives drawn from different life experiences. The industry is also recognising the importance of an inclusive environment and working to address the diversity deficit and skills shortage.
So, when a primary school in our region announced 'STEM Fortnight', we decided to reach out to our youngest audience yet. Jamie Campbell, Commercial Director and co-founder of d3t visited Sandiway Primary School, Cheshire to let pupils know that there are great opportunities open to them within the industry, and to deliver the important message 'You can work in games'.
It was our first time presenting to the 9-11 age group and as we have team members who attended Sandiway and now their children do, it was the perfect place to start. The level of enthusiasm, creativity and interest we found has left us in no doubt that engaging with our younger children is a vital element in creating the industry stars of the future.
We used a combination of presentation, role play and open forum to explain that it takes a whole team of people with a wide range of skills to make games and that the industry needs managers, designers, artists, QA and programmers to make it tick. The role plays were used to emphasise the importance of team work, offering support to each other and solving problems as a group, which is the model we use at d3t.
Each role play group had Designers tasked with filling in the blanks of a story. Artists had to draw the pictures of what the Designers had written. QA Testers had to check the correct tag was given to each image and Coders had to put them in place on a gridded flip chart – they were given co-ordinates for each image. QA & Managers then reviewed everything to ensure it had all gone to plan. You can see the creative output in the gallery below.
There is a recognised skills shortage in the industry and our visit to Sandiway Primary School has shown us that the next generation of talent just need to be offered the right guidance and encouragement to join the industry.
We would like to thank all the pupils for their exemplary behaviour, excellent teamwork and for working so hard during the (difficult!) task and many thanks to the staff for their warm welcome.
d3t's STEM Presentation at Sandiway Primary School