Wellbeing Week 2022 – what we got up to!
29th Jun 2022
It was that time again recently, as we were once again delighted to welcome back our annual Wellbeing Week!
This was the fourth time that we have run the event at d3t, and the first in-person one since the beginning of the pandemic.
This year's theme focused on our team and promoting a healthy body and mind. To aid this, we put on a selection of talks, activities, and events for us all to enjoy across the week – oh and let's not forget the incredible smoothies of the day that were on offer (Wednesday's mango lassi was incredible!).
Below is a quick preview into some of the things that we all got up to across the week.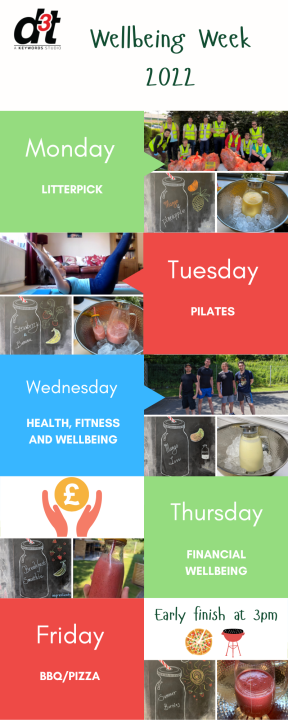 And what a week it was!
It was great to see our team come together, meet, get involved, and socialise with one other – some for the very first time and others for the first in a long time.
At d3t, we value the health and wellbeing of our team, and make sure that everything that we do focuses on this. This is why running weeks like this are so important to us, and also why they have become a key landmark in the d3t calendar.
With our team's continuing to work hard on a variety of upcoming and future AAA projects, it is an exciting time for all of us at d3t and we look forward to sharing these with you when we can!
Until then, keep following our social media channels for more information, and if you are interested in being part of our next Wellbeing Week, why not take a look at the vacancies that we are currently recruiting for here.