Shariqua Wahid at the University of Bolton
18th Apr 2018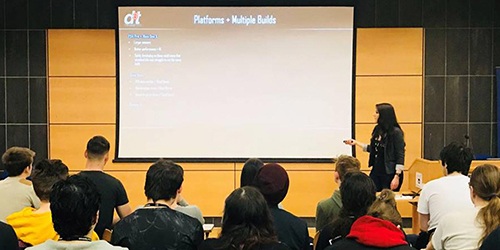 Shariqua Wahid joined the d3t team in 2016 after studying a BSc Games Design degree at the University of Bolton and graduating with first class honours. Two years later Shariqua returned to the University of Bolton, to deliver one in a series of presentations about her work at d3t and her experiences within the industry.
Shariqua joined d3t as a QA Tester and has more recently diversified into design. Her presentation explores the history of programming and women's role within it, covers the work that we do here at d3t and Shariqua also includes her own experiences of the industry, encouraging younger women to view it as a viable, dynamic career choice.
With the current skills shortage in evidence across the industry, we regard engaging with up-and-coming talent as a vital part of our work. Our internship programme has proved hugely popular and we take time to attend workshops, recruitment fairs and open days at universities throughout the north west and further afield.
Huge congratulations to Shariqua for stepping up to spread the word about the awesome work we undertake at d3t and the rewards of working in the industry.
You can read more about Shariqua's presentation in this University of Bolton article.
If you are a talented coder and want to work on a range of diverse, challenging projects, why not check out our current vacancies.
We look forward to hearing from you.