Spotlight: Dan Hutchinson, Artist
24th Aug 2021
This month we caught up with Dan Hutchinson, one of our many talented artists at d3t. Dan joined d3t in 2017 as a junior artist and has shared below how he got his job at d3t, and what a typical day looks like for him.
How did you get your job at d3t?
I was coming to the end of my year-long apprenticeship in Game Art with PlaygroundSquadUK and I had finished up with my assignments, so I was just focused on building my portfolio and applying to studios. I applied to d3t and they got in touch shortly after. I was so excited to be invited for an interview, and during my apprenticeship, I had the opportunity to network with some developers at a local studio and I told them I'd got the interview with d3t. They were already familiar with d3t and told me lots of good things that they had heard about the studio as well as some of the people they knew there, this only made me more excited!
I arrived at the interview really nervous, but Matt and Andy from the art team helped to make things really relaxed and down to earth and it really helped me settle. It felt more like a friendly chat by the end which was great, and I also got the opportunity to talk to another member of the team and ask them some questions about the studio which gave a cool insight into the company and what things are like. All in all, I walked away from the interview feeling confident and not long after I received a call offering me a position on the team as a junior artist. I started the job only a week or so later and never looked back. I'm nearly 5 years in and I love coming to work each day. It's awesome to work on such cool projects with a great team.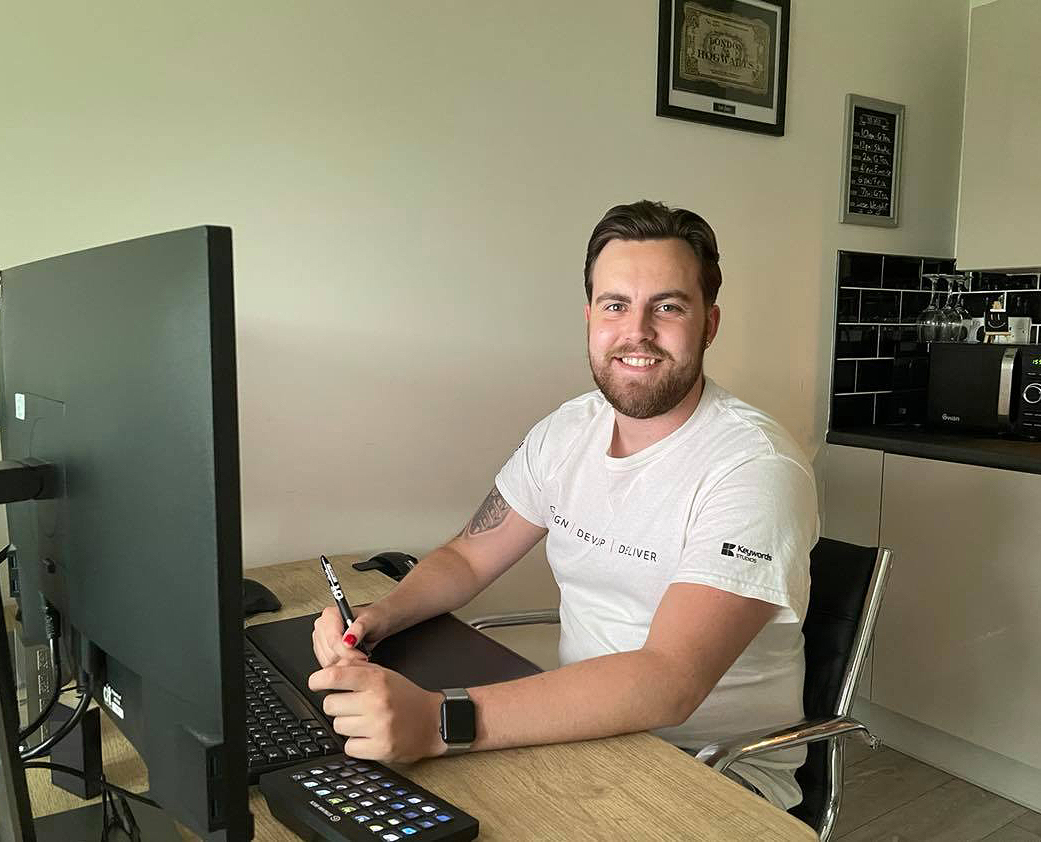 What do you do day-to-day?
Except for Mondays as I usually like to start my week off with a later start, thanks to flexitime, I start my day around 8am and get stuck straight into my work. Since we've been working from home, I've been drinking less coffee as every time I boil the kettle, I forget to make myself a brew ha! Around 10:30am, I join the daily "stand-up" for my project catch up with the team and find out what everyone has been up to the day previous and what they'll be working on going forward for that day. It's also a time for us to raise any work-related issues we may be having with our excellent members of the production team. After this, I tend to pop a playlist on Spotify and carry on with my work for the rest of the day.
A lot of my work currently involves plenty of modelling which I really enjoy and get stuck into. I also get to do a lot of texturing work which is the really fun stuff, texturing all kinds of assets and making plenty of materials with Substance which is one of my favourite software packages. I don't have a particular specialisation, so I get plenty of opportunities to explore different kinds of workflows and make a variety of different things, from buildings to weapons and props which is really cool!
I really enjoy the work I'm able to do at d3t as it's always varied and the studio is full of such helpful and experienced people. If I ever have any questions there's always someone to turn to and always something to learn. It's such a pleasure to be a part of such an awesome team!
Do you have any tips for people looking to get into the games industry?
Some tips for anyone looking to make it in the industry, is first, don't give up! Everyone receives knockbacks before they get their foot in the door but don't let it deter you. Keep learning, keep making art and keep trying, you'll get there. A refined portfolio is another must-have for making it. Stay focused on making sure your portfolio is the best it can be and really shows all your strengths. Remember quality over quantity here, a few excellent pieces will go a long way in comparison to a mass of okay projects.
We are hiring
Stay tuned for more spotlights this year. In the meantime, if you're feeling inspired and want to join our team, check out our vacancies page!