Stuart Pentelow announced as one of 2022's MCV/Develop 30 Under 30
7th Dec 2022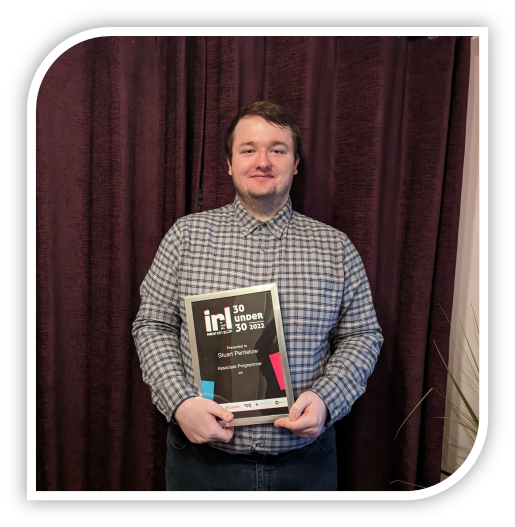 The winners of the coveted MCV/Develop 30 Under 30 awards were announced recently at a star-studded event in London.
The awards which set out to showcase 30 of the most talented individuals under the age of 30 working within the games industry, identifies those that have not only worked in the industry for some years, but those that have also demonstrated excellence and progression during that time too.
With more nominations received than ever before for a place on the cohort, we are delighted to announce that our very own Associate Programmer, Stuart Pentelow has been recognised as one of this year's winners.
Stuart, who is a strong advocate for helping and mentoring those who aspire to work in the industry, has formed close ties with Abertay University in Dundee, where he has helped spearhead d3t's support and team involvement in assisting with the Professional Project module. This support sees d3t provide an open-ended brief for students to work on, and at the end of the mentorship programme they then keep their own IP rights to the work. You can take a look at some of the past work with Abertay University here.
Speaking on Stuart's win, Head of Engineering at d3t, Phil Owen, said: "Stuart's programming skills have developed steadily and effectively since joining d3t from university and he has contributed greatly to the projects he has worked on. Everyone at d3t is extremely proud of Stuart's well-deserved achievement. Going forward I hope that his development as a Programmer continues to go from strength to strength and that he takes great confidence from being one of MCV/Develop's 30 under 30. Very well-done Stuart!"
Stuart, also spoke on his recent win, saying: "I am incredibly pleased to be one of MCV Develop's 30 Under 30 Cohort for the year of 2022.
"Visiting London and networking with a wide range of incredibly talented games industry professionals at the IRL event was an experience that I don't think I'll be able to forget for a good while!
"I can't thank my friends and my fantastic colleagues at d3t enough for encouraging me and pushing me forward for this award, so a massive thank you to you all."
You can take a look at the full MCV/Develop 30 Under 30 cohort for 2022 here