Wellbeing Week at d3t
4th Jul 2019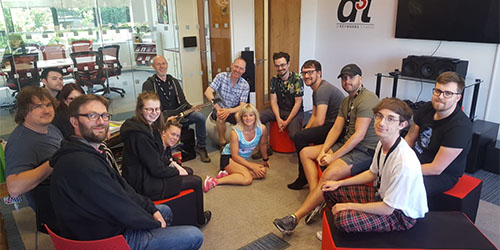 Last week at d3t we held our very first Wellbeing Week. An initiative to promote awareness for the various aspects of wellbeing. These include; social, physical, emotional, financial and health & nutrition.
During the week we held a number of activities, for our team to get involved with to promote a healthy body and mind. We decided to dedicate each day to a different theme or topic.
Monday – Nutrition & Finance
Tuesday – Mind
Wednesday – Relaxation
Thursday – Health & Fitness
Friday – Social Friday
All activities were available free of charge to our team, there was an option for them to book further follow up appointments with each of the external presenters should they wish to do so, again completely free of charge!
To kick off the week we started the day with healthy snacks available for each team member, alongside healthy recipe ideas for them to take away. We were very lucky to have Gary from Howard Worth Accountants deliver 1 to 1 sessions on all things finance related. The team had the option to book an appointment with him to discuss any personal financial worries or questions they may have.
Tuesday – Nic, Mind
On the second day of Wellbeing Week the topic for the day was Mind. We took inspiration from the charity 'Mind' to give some workshops to educate on how to keep our minds healthy. Nic held two workshops, with a focus on anxiety. Again there was the option to have a private chat after the workshops, to ask any questions.
On Wednesday we had the wonderful Maggie in, a trained holistic and reiki therapist from Lotus Holitics. Maggie delivered an insightful presentation on 'Wellbeing in the Workplace'. She also offered professional seated chair massages for all the team to book a slot.
Thursday was dedicated to all things Health & Fitness related. We had the talented British athlete Hayley White in to inspire our team. She is the first and only UK female athlete to complete the Artic6633. Hayley delivered a motivational talk to our team, with private appointments available afterwards.
Friday – Social
Finally to round up the week on Friday we held a social day with nibbles throughout the day. This involved lunchtime games in the communal room, followed by drinks and snacks after work.
We thoroughly enjoyed our first Wellbeing Week, as did our team. We can't wait to hold it again, and we hope going forward that others in the industry will be inspired by our efforts and take up Wellbeing Week themselves. Finally a big thank you to everyone who came and delivered a presentation this week.